The City of Albuquerque is running a pilot using recycled water on certain golf courses and parks in the South Valley. This mitigates use of potable water. This raises the question of whether city and county zoning could require grey water for landscaping on all future building permits, as Tuscon does.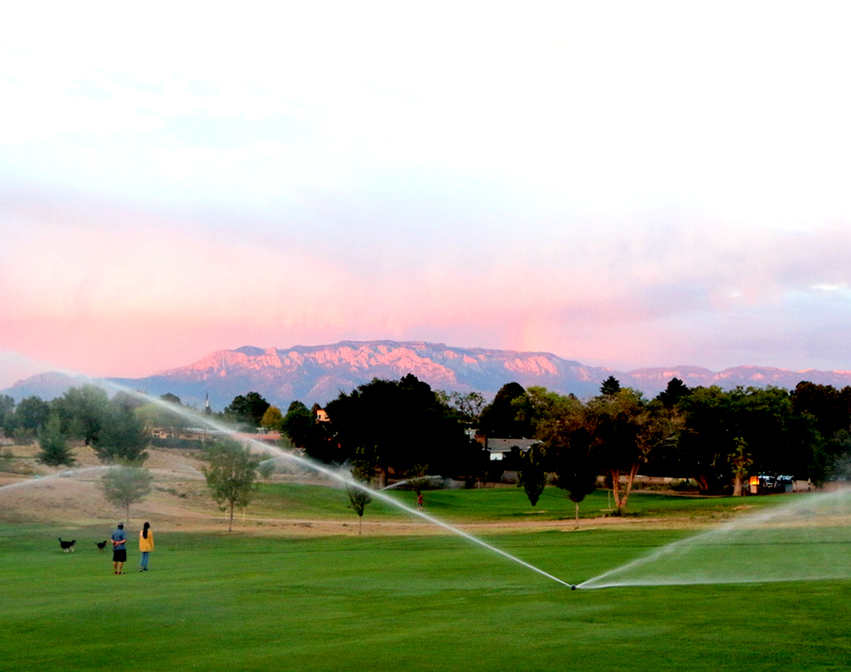 In Sandoval county many agencies have come together to build the Harvey Jones Bioswale Demonstration Project as a Green Infrastructure Initiative (GSI). They have basically constructed a curving path for stormwater runoff into a wetland so there will be aquifer recharge rather than the water going straight into the river. No concrete is being used for channels. Where else can concrete be removed from diversion channels to permit stormwater to permeate into the aquifer?
The ABCWUA 2120 plan sets a goal to decrease water usage from the current 127 gallons per person/day to 110 by 2036. Could this be moved up by ABCWUA, or at least by individual households? And could there be free audits to help the homeowner comply, or fines to convince them? And what about the number of trees a property has in place to sequester carbon and provide cooling shade…can their watering be credited in the calculation of household water use?
Could less effective dams be shut down? Up to 30% of stored surface water evaporates annually, so shutting down dams such as the 110-year-old Elephant Butte dam might help New Mexico meet its surface water obligations to Texas. But…how would shutting the dam down affect recreation and irrigation of chili and pecans?
The cities of Rio Rancho, Albuquerque, Bernalillo, Los Lunas, and Socorro and the tribes of Cochiti, Kewa, San Felipe, Tamaya, Sandia, Laguna, and Isleta all have a voice in decisions about the mid Rio Grande watershed. State agencies as the NM Environmental Department and the Interstate Stream Commission, regional agencies as the Mid Rio Grande Conservancy District and the Soil and Water and Conservation District, and the acequia societies all have important roles. Federal agencies as the EPA (mainly water quality), USGS (mainly gauges for measurements of water flow), and Bureau of Reclamation (mainly dam construction and management) have critical roles. And then there is the Rio Grande Compact, an interstate treaty between Colorado, New Mexico, and Texas, approved by Congress in 1938. The Compact determines how much water each of the three states will be allotted according to certain water flow gauges along the river.
Melanie Stansbury has currently introduced a bill in the US House, with a companion bill in the Senate, to get all these entities at the same table to study the issues of the Rio Grande and its basin as it flows through the three states and into the Gulf of Mexico. Hearings on this bi-partisan bill are expected to begin this summer and fall.
What are some other ideas you have heard of or thought of to better address the problem of drought and potential water shortages in the mid Rio Grande?