Jodi Colchamiro and Valentin Garcia have a large garden in the backyard of their North Valley home. Jodi talked in a phone interview with mid Rio Grade Times about how their garden grew. Interview by Nancy Harmon
We moved to our present home in 1986 and were excited to plant a big garden. I took classes and learned about composting and healthy soil, and Valentin brought his expertise from growing up on a farm in Las Cruces. There were no trees in the back yard, so we planted fruit trees and tried gardening in the soil around them. As the trees grew and roots expanded into the yard, we realized the trees were competing for nutrients with the rest of the garden, so we moved the veggies into large pots and covered "urban gardens" (waist-high beds covered with plastic that allow some things to grow even through the winter). We can control water, pests, and nutrients better this way. Now we grow tomatoes, cucumbers, squash, herbs, and chili during the summer and continue with greens all winter. We never intended to make money from it—it's all about the pleasure we get from watching things grow, eating healthy food ourselves, and sharing the bounty with friends and neighbors.
I love different varieties of chickens and the different colored eggs they produce—my favorites are the gentle cochins that are good brooders and moms and the aracaunas that lay green and blue eggs. Now with 80 chickens, I can put together colorful boxes of eggs to sell out of my house in the summer and sometimes at the Growers' Market.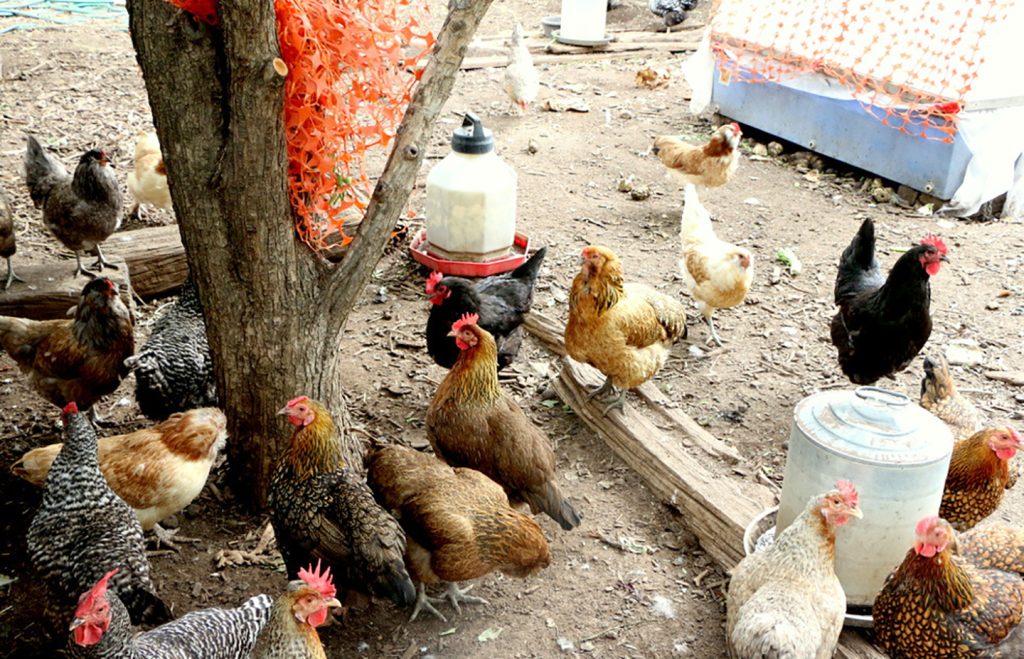 Gardening in New Mexico requires careful tending of the soil, the key to a successful garden. I keep an eye on alkalinity, and I make my own compost from manure from my chickens mixed with straw and garden and kitchen waste. Expired produce I pick up from La Montañita Co-op goes to the chickens. Even so, gardening can be expensive! We have water rights as part of the acequia system in the valley, and we use ditch water for the fruit trees and city water for the containers. As the drought and higher temperatures continue, I worry about our water and that more pests will overwinter. We may have to move to using only city water eventually, and the cost of city water may prevent us from gardening the way we do now. It will be tough to compete for water if corporate cannabis growers are allowed into New Mexico.
In spite of some challenges due to climate change, gardening remains our passion. Growth is a miracle, and everything from the garden tastes better.