This very readable book describes how sustainable agriculture can make us healthier, reduce pollution, and counteract climate change. It provides a comprehensive and eye-opening look at how farmers and organizations in several countries use innovative techniques and ancient traditional methods to build soil and provide food in a sustainable manner.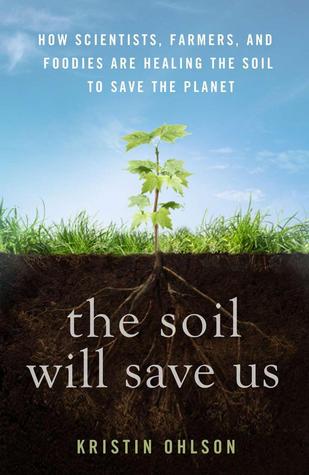 The author meets and interviews key soil researchers and innovative farmers and practitioners, including Alan Savory (founder of the Savory Institute), Courtney White (founder of the New Mexican organization Quivira Coalition), and Gabe Adams (a successful no-till, cover-crop farmer in North Dakota). She reports on the work of research institutions such as New Mexico State University. She also points out the damaging impact of big money from petroleum, fertilizer, and chemical companies on government agricultural policies, university agriculture departments, farming practices, and ultimately, the nutritional quality of the food we eat.
Conventional wisdom has assumed that over-grazing by cattle has caused degradation of the land. But Alan Savory's research shows that putting large numbers of cattle on small sections of land for a short time and then moving them can result in richer and more productive soil. Saskatchewan farmer Neil Dennis found that the benefits of running a large number of cattle "were multiplied by having lots of them there: lots of hooves breaking up the hard surface of the soil, lots of grasses trampled into the ground, lots of grasses being tugged and bitten, causing the plants to pulse carbon sugars into the soil, and lots of nutritious dung, urine, and hair spread around for insects and microorganisms to break down." (p. 96)
Ohlsen describes exciting New Mexico State University research by Douglas C. Johnson. Planting over cover crops instead of clearing the previous year's debris increased the soil's organic matter by 67% and water-holding capacity by more than 30% in two years. There are obvious lessons here for creating sustainable agriculture in arid New Mexico.
The author portrays problems, including difficulties getting research funding that is not from fertilizer and pesticide companies. Despite this, there is much hope in the book. A diverse of people, including farmers, ranchers, hunters, preservationists, and wilderness advocates (all of whom love the land), are coming together to create solutions that will work for everyone.
Reviewed by Linnea Hendrickson, member of Elder Activist Readers ) EAR)