Valle de Oro National Wildlife Refuge, like Sevilleta, is a refuge under the auspices of the US Fish and Wildlife, five miles south of downtown Albuquerque at 7851 2nd Street SW. It is unique in that it is a refuge in an urban area. The land was once Isleta Pueblo land, then a dairy farm, and in 2012 the 570 acres were purchased by the federal government to become a wildlife refuge. Recently its 10th anniversary was celebrated by opening a visitor center focused on education and habitat conservation and restoration.
A group of 40 different local partners collaborated to create a Backyard Wildlife Guide with an incredible amount of information. People throughout our area are encouraged to deliberately create spaces for plants and animals. The website has a step-by-step guide. Among the planning principles are providing water year-round for plants and animals, selecting plants which pollinate from early spring into fall for food, developing shelter by leaving brush and dead limbs around, and practicing wildlife gardening. While the title of the program says 'backyard,' the purpose is to create as many spaces in an urban area as possible for wildlife, be they homes, apartment balconies, businesses, or churches, on public or private land. Completed projects are certified at three different levels. So far, 200 people have completed the program for a total of 78 acres across the city now qualifying as refuge.
The west side of the refuge is bosque along the Rio Grande which is part of the City Open Space. There are 3 miles of hiking trials, with some undergoing renovation. People (and dogs on a six-foot leash) are welcome as long as they stay on the trails so as not to disturb the wildlife. There are plans to expand these trails to a total of 10 miles and to build wetlands.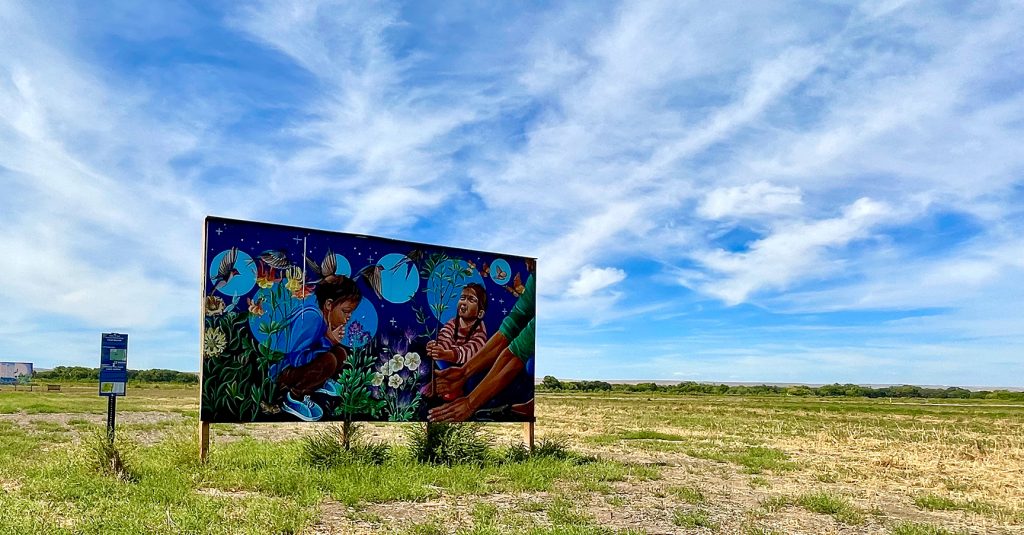 Wildlife currently seen at the refuge includes many species of migrating birds, raptors, dragonflies, damselflies, coyotes, badgers, racoons, skunks, and porcupines. As their habitats are restored, more wildlife will come.
Valle de Oro is officially an "Urban Night Sky Place" – it was the first to receive this certificate from the International Dark-Sky Association. The Albuquerque Astronomical Society sometimes holds "star parties" that are open to the public at the Refuge.
The new visitor center at Valle de Oro is open Tuesday through Saturday, 9am–4pm. Come visit your refuge, and build a refuge right where you live!
by Sue Brown