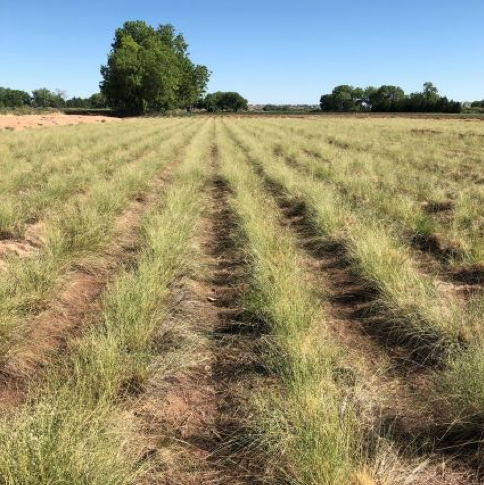 There are thirteen science centers across New Mexico as part of New Mexico State University Department of Agriculture. The one in the mid Rio Grande Valley is located in Los Lunas on 204 acres of land. There are 55,000+ acres of irrigated land and urban gardeners in this valley leading the center to chose research projects which serve this population.
Since established in 1957, the Los Lunas Center has researched many crops as corn, chili, turf grasses, and fruit trees. At this time there are three main projects:
(1) Integrated pest management – This research is aimed to manage pests while maintaining beneficial insect populations.
(2) Viticulture – This relates to the growing of grapes. This research aims to maximize grape production across the state by variety selection and rootstock testing. Also included are vineyard management techniques.
(3) Forage research is being conducted to find the most cost-effective ways to grow alfalfa.
Other Science Centers are located in communities across the state and are involved in a variety of research projects. Some examples in Northern New Mexico are: Alcalde – fruit production, bees, acequia culture, Clayton – feedlot research, Mora – improving the quality of forestry seedlings to meet a harsher environment. In the Southern part of New Mexico, some of the centers are located in Artesia – bioenergy feedstock, Clovis – alternative crops for dryland and irrigated farming systems, Las Cruces – application of digital agriculture tools.
Each of the Centers has an annual Field Day. The tour of the research farm in Los Lunas is on Tuesday, August 8th at 7:30 a.m. and the tours of the others are listed on the NNMSU Agriculture College website's home page.
,,,