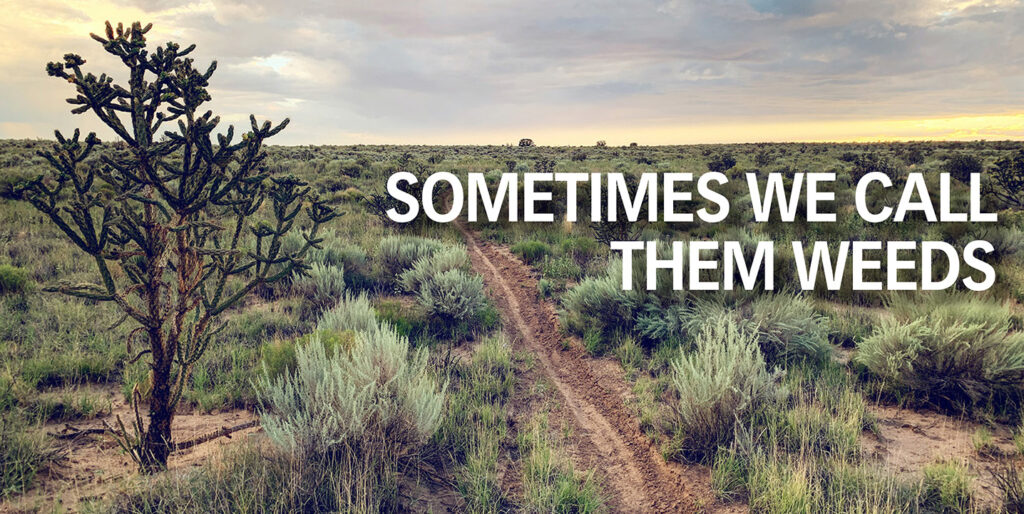 A weed is a plant we have not yet found a use for….
A lot of us have heard of using dandelions in salads or tea. Some of us have even sampled wild mustard which is now growing all around in roadsides and yards. Rosehip jam is common in Europe, and wild rosehips were also used in various ways by Native Americans. See mid Rio Grande Times – Gardening section for recipes for rose hip tea, mustard pesto, dandelion wine, etc.
Many other useful plants are all around us! An important way to learn more about where we live, in order to feel connected to our place, is to study the non-cultivated plants growing naturally in our surroundings. There are many books and plant guides for those interested in knowing more about useful plants both for eating and medicinal uses. This article provides some suggestions for how to get started to learn more about edible and medicinal plants in New Mexico.
One valuable local resource is Dara Saville. A local class she teaches through Albuquerque Herbalism (https://albuquerqueherbalism.com/) is described as follows: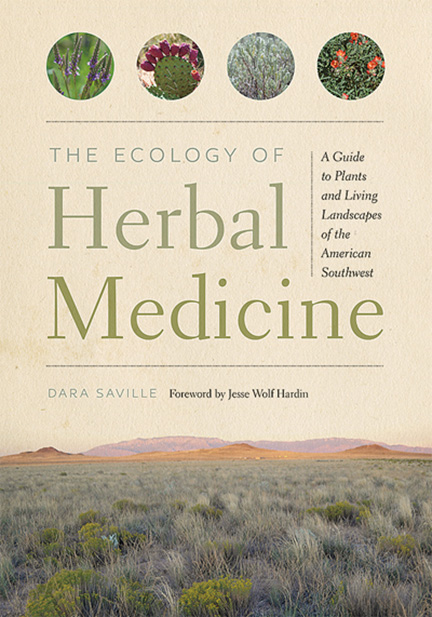 "Gardeners and Herbalists, put those pesky weeds to good use! In this 2 hour class, students will learn about local edible and medicinal weeks commonly found in parks, fields, yards, roadsides, and waste areas of the Albuquerque area. Herb discussions will include identification, harvesting, preparation, herbal actions, and healing or culinary uses for each plant."
Her classes are unique in that they distinguish plants by where they grow: in the separate ecological regions of the Desert Mesa, the Rio Grande Bosque, the Foothills, the Chihuahua Desert, and mountain ranges. Saville is the founder and main instructor for Albuquerque Herbalism; she is also the executive director of the Yerba Mansa project focused on restoring native plants in our Bosque. This project welcomes community participants for restoration projects. Check https://yerbamansaproject.org/ for upcoming teaching and restoration events. This project is also working with community help to develop a free online plant guide for the middle Rio Grande Bosque (https://www.inaturalist.org/guides/2071)
At the other end of the book spectrum – more suitable for people just getting started in edible plant identification and potential uses — is a book by Charles W. Kane: Wild Edible Plants of New Mexico (one of a series for various states). With 64 pages covering 58 edible plants, it is easily carried in a daypack. Plants are arranged alphabetically one page each, with photos large enough for plant identification. Each description includes information about the plant's Range and Habitat, Edible Uses, Medicinal Uses, and Cautions and Special Notes. There is a preface page for Poisonous Plants (not a complete list). This book is suitable to study before going out in the field as a means to pre-identify plants to look for in a particular type of geographic area.
A new concern about foraging for wild foods and medicines is destruction of plants and habitats. For example, Osha is a New Mexico plant which is endangered. Gardeners are being encouraged to grow such plants in their gardens instead of wild-harvesting. Unfortunately, some plants like Osha are difficult to grow outside their native mountain habitat.
At the same time, environmental groups such as The Nature Conservancy and Audubon are urging gardeners to use native plants for the sake of supporting local wildlife habitat (https://www.audubon.org/content/why-native-plants-matter). In Albuquerque a good source for native plant information is Plants of the Southwest. The company publishes a catalog annually that includes many edible and medicinal plants as well as decorative plants and trees and shrubs, many of them with edible aspects. Also, Santa Ana Nursery in Bernalillo is another source which specializes in native plants.