VALLE DE ORO, a National Wildlife Refuge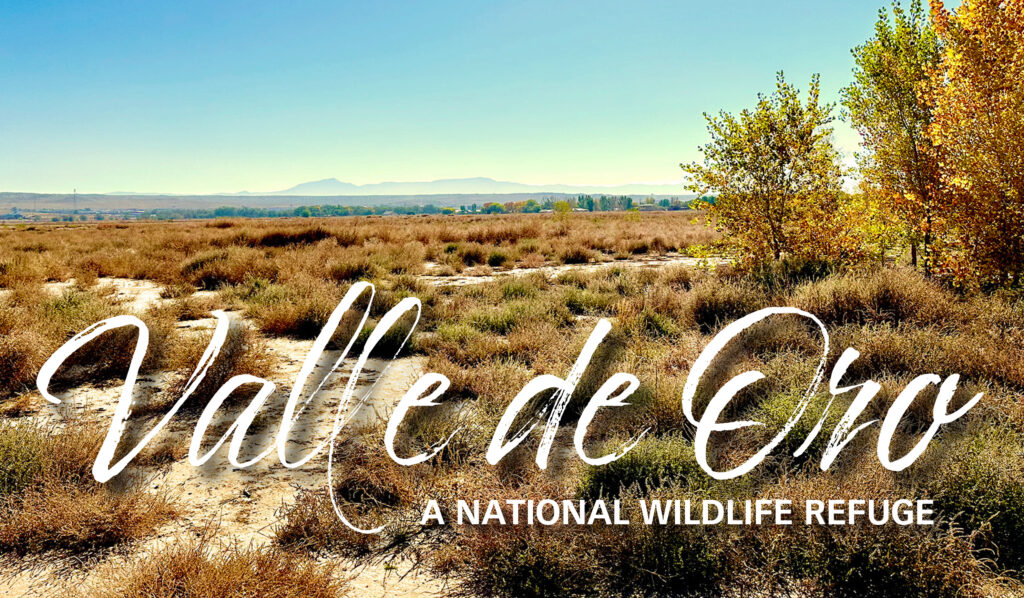 Two-and-a-half miles south of Rio Bravo on 2nd Street SW in Albuquerque, one of the few urban National Wildlife Refuges in the US is thriving. This 570-acre refuge was once a dairy farm. When it was put up for sale, people in the Mountain View community of the South Valley came together to form the Friends of Valle de Oro. Together with the Tiwa People of Isleta Pueblo, for whom the land is their traditional, unceded homeland, they advocated for it to become a public space. They wanted to have a space where other species could flourish in the midst of humanity, as a way to cooperate with our wild neighbors. The project began with a survey of 500 households in the area, which was used to make a strategic plan. When Valle de Oro National Wildlife Refuge was established in 2012, the staff and volunteers built on the plan to develop a vision of a Refuge that would meet urban environmental and ecological needs in many ways. They continue to make the refuge a creative work in progress.
Most of the visitor center is comprised interactive exhibits. A visitor can choose short videos on various topics such as 'community gardening,' 'night visitors' (beavers), 'nighttime and mosquitos,' 'searching for porcupines,' etc. There are also viewing boxes including an orb spider and its web and pill bugs working to decay leaves. You can even feel the difference between the skin of a frog and a toad. The exhibits and videos are low enough to be accessible to both children and adults. The center also has a library with books on environmental justice for both children and adults, a gift shop, and a meeting room.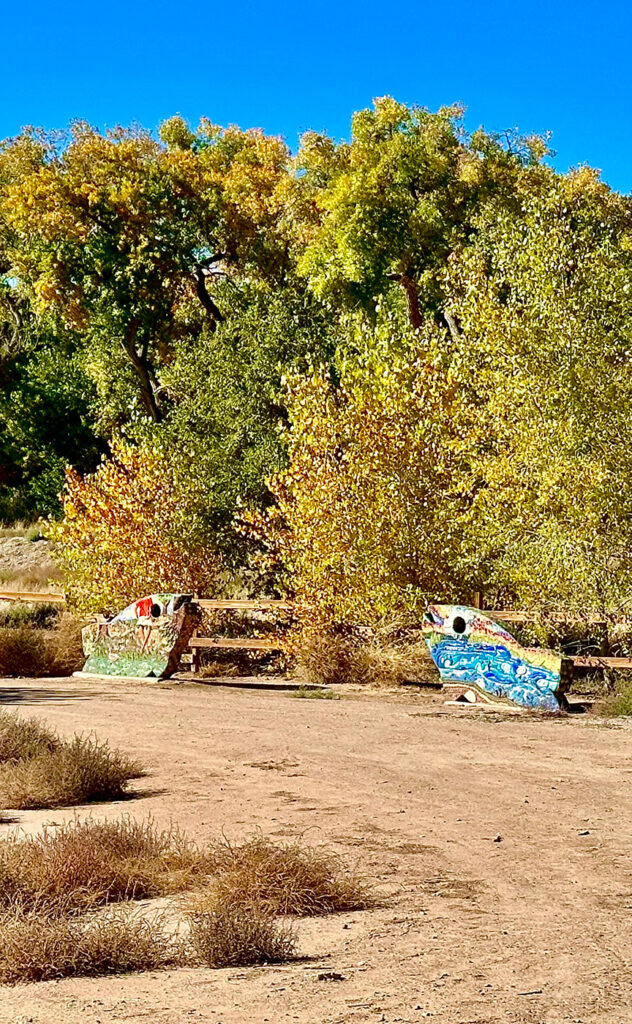 Outdoor educational opportunities include a pond with signage behind the center and trails to explore farther. Part of the Bosque Trail is currently closed due to habitat restoration and to build a stormwater swell. This area is also part of a future plan to have five different wetlands. During peak spring, summer, and fall months, there is a shuttle to take you from the visitor center farther into the bosque.
The Albuquerque Backyard Habitat program is a major project of the center. This program has a free detailed workbook which is easy to download. It guides the reader in learning which plants in our region are most likely to attract birds, other animals, and insects and how to support their lives year-round. After a residence or commercial space has signed on to develop a refuge area, it is visited by staff, given additional guidance, and then approved as a Backyard Refuge. The space is given a sign and re-qualified on an annual basis. So far, across the county over 100 acres have qualified as urban refuges. The goal is to match new backyard refuge acreage with that of the Valle de Oro refuge, i.e., 570 acres. In spring and fall, the center hosts a Backyard Refuge workshop. Consultants on native plants, water harvesting, pollinator habitats, and more are present to answer questions, and there is a seed exchange.
There is no admission fee. This is an opportunity to enrich both yourself and the community as you develop your own Backyard Refuge.