What are agencies and organizations thinking about?
This year's legislative session will go from January 17 – March 18. Here's a round-up of what some advocacy organizations and government agencies will be focusing on.
350 New Mexico aims to build an inclusive movement in New Mexico to prevent the worst effects of climate change and to help the public get an overview of the impacts of climate change on our state. Their website is easy to read, with both their proposals to combat aridity and the background materials which led to these recommendations. You can volunteer to join their legislative action team; by signing up, you will receive alerts to attend virtual hearings at the Legislature and make public comments. They will hold a Zoom Legislative Action Training on Sunday, January 8th at 4 p.m.
Another critical site to check out is the Middle Rio Grande Water Advocates. Their site has the Office of the State Engineer's plan, developed from the input of many experts, which describes New Mexico's overall water situation. The "Water Action Plan" will be discussed soon . To develop this plan, small groups of people with expertise on water met together for months and came up with agreed-upon actions based on the State Engineer's report. These will be presented to legislators for sponsorship and ultimately to Legislative Council Services who will draft bills for the 2023 session. Their Water Policy and Funding meeting is planned for January 11 at 6:30 on Zoom (here is the link to sign up for to attend).
The Nature Conservancy has a statewide agenda focusing on public ownership of power and prohibiting an increase in the disposal of radioactive waste. They are looking for volunteers to be present at hearings for these bills. There are no water-related bills on their website.
The Conservation Voters Alliance values the responsible stewardship of our water, land, and natural resources. They track what decision makers are doing to advance public policies related to these values. This year they are particularly looking for policies related to and after the session will produce a report card on how these policies have or have not been supported by each of our legislators.
The Rio Grande chapter of the Sierra Club has an agenda which includes no plastic pollution and support for a Plastic Pollution Reduction Act. They will be holding citizen meetings on Zoom each Friday from 11am–12pm during the entire two month session, beginning on Friday, January 6th. Their Water Action Team is currently focused on water contamination from cattle in feedlots.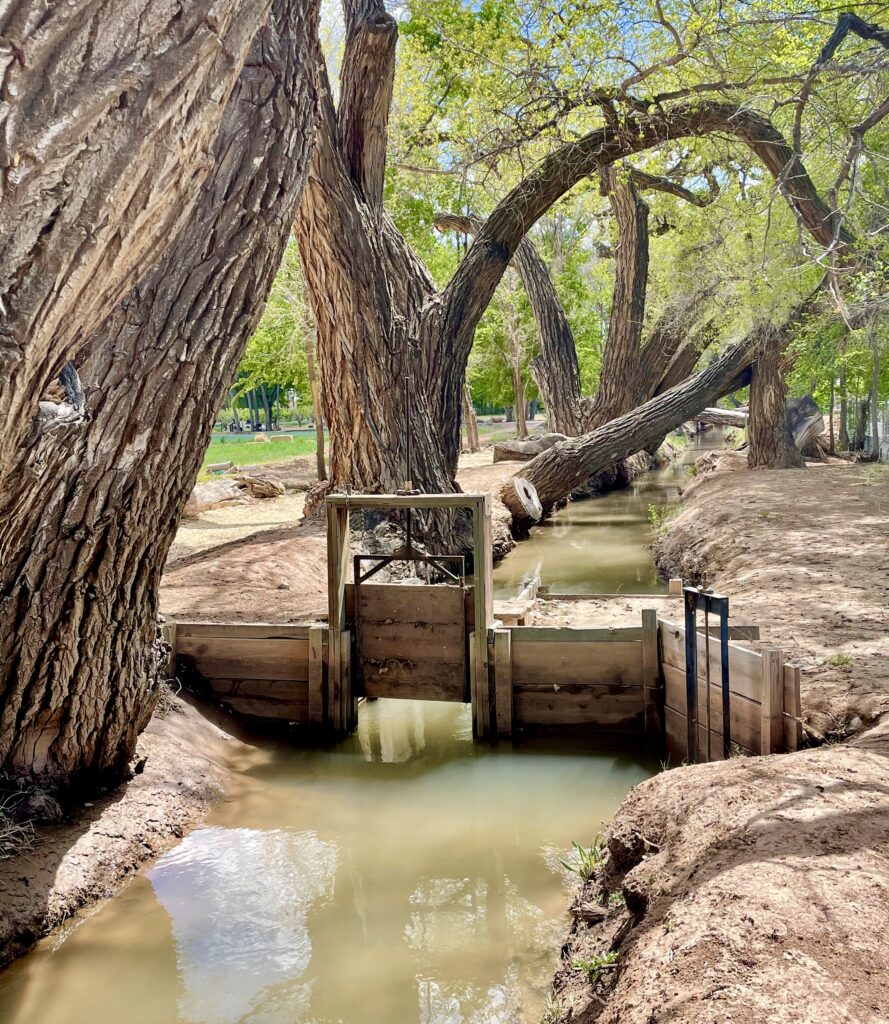 The Mid Rio Grande Conservancy District is working with the Bureau of Reclamation to restructure the distribution of water stored at the El Vado Dam. This process involves water for the Compact, tribes, and the irrigation district. There will also be requests for capital outlay funds to repair and replace aging infrastructure, and also specifically for the Corrales Siphon.
The Albuquerque Bernalillo County Water Utility Authority (ABCWUA) has decided on its legislative priorities for 2023. They will be requesting $18.5 million in capital outlay funds for eight different projects. The largest request ($4.5 million) is for a Thomas Wells Arsenic Treatment Plant. Between 2006 and 2009, Albuquerque had to shut down 40 of its 96 wells because arsenic levels were above the EPA's allowable standard for drinking water. The arsenic levels in these wells came from rock deposits, industry, and agriculture. This treatment plant will bring four wells in the Northeast Heights back to capacity. There are also projects for water reclamation, pipelines to sites to use this water, wetland and habitat restoration, a new well to monitor the Kirtland Air Force Base spill of ethylene dibromide, and a reuse recovery plant in Uptown for irrigation, water features, and toilet flushing.
Another ABCWUA initiative is to decrease water usage by 30% on nonfunctional turf (NFT). Examples of NFT can include medians, neighborhood entrances, streetscapes, and roundabouts. "Unused turf is wasted water," according to those who are a part of the Colorado River Basin Partnership MOU. ABCWUA is stepping back and asking what the ideal landscape is for Albuquerque … probably a lot fewer NFTs.
Arid LID is hoping to increase Green Infrastructure Initiative projects through junior bills with individual state legislators as sponsors. Final details are not yet worked out.
Bernalillo County has passed a resolution with its legislative priorities which this year include mental health and public safety initiatives. Water projects are left to the existing water-related departments of the county government.
The City of Albuquerque has yet to decide on its legislative agenda.