I associate early spring with pruning. Growing up on our little farm in Ohio, we had several hundred fruit trees, mostly apple, with a couple of peaches and plums, and an old sour cherry tree. Dad and my brother would go out in early spring and prune and spray the tree. I remember Dad explaining about pruning apple trees. "You want to take out the branches that slant higher than a 45 degree angle because those won't grow fruit."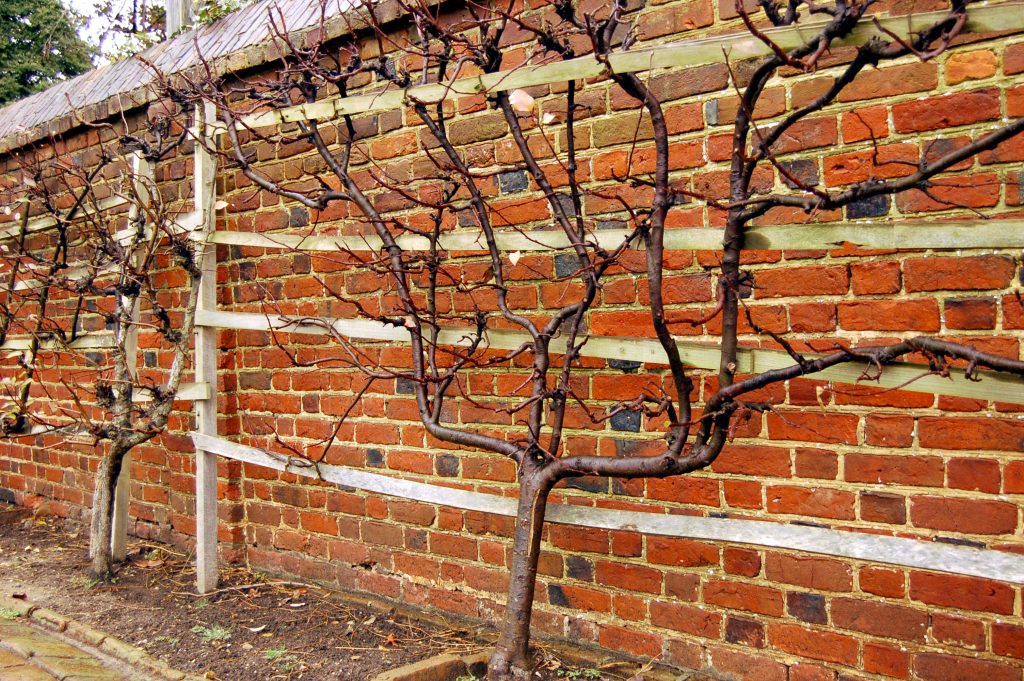 Quite a few years ago I attended a master gardener demonstration at what is now the rose garden around the Tony Hillerman Library. The gardener did a great job of explaining her thought process for which stems to leave and which to remove. It was helpful to learn that, if you cut the "wrong" stem the plant will recover in time and it won't really matter. Whew! That took off a lot of pressure. Ever since, I've been pruning roses at my house in early March.
At the new place I inherited a small peach tree. I don't know whether it is dwarf or semi dwarf, but the fruit was really good the first year. Now I have in mind to plant a peach tree along the south wall of my garage and espalier it. That is, prune it so it grows flat along the wall. Since I've never done this, I did some reading. Of the three books I read, Grow a Little Fruit Tree, Simple Pruning Techniques for Small-Space, Easy-Harvest Fruit Trees, by Ann Ralph, was the most helpful for my purposes. It seems to only be available in electronic format.
A couple important points I gathered from Grow a Little Fruit Tree include:
When you plant the peach tree – a little whip about 3' tall – the most difficult and most important thing you must do is to cut it back just above a couple buds at about knee height. It's really hard to do, and really essential so the tree grows in the right shape and has its first branches close enough to the ground.
It doesn't matter if you buy full size, semi dwarf, or dwarf; the secret to keeping the tree small is how and when you prune it. In fact, the author recommends that you buy the full size tree, because the root stock is supposedly better than for a semi dwarf. (And dwarf trees are often too small).
To keep the tree small, that is, no taller than you can easily pick the fruit off it while standing on the ground, the secret is in the pruning. In addition to pruning in late winter or early spring, you should also prune around the summer solstice. At that time, the energy of the tree is in the leaves and fruit. By removing branches at that time, you curtail the tree's growing energy, thus keeping it short.
I haven't yet tried this, but I'll certainly let you know how it turns out.
By Leslie Kryder
PS. Two other books, which are available from the public library, are: Fruit Trees in Small Spaces: Abundant Harvests from Your Own Back Yard, by Colby Eierman, and Pruning Made Easy: The Complete Guide to Pruning Roses, Climbers, Hedges, and Fruit Trees, by Peter McHoy.