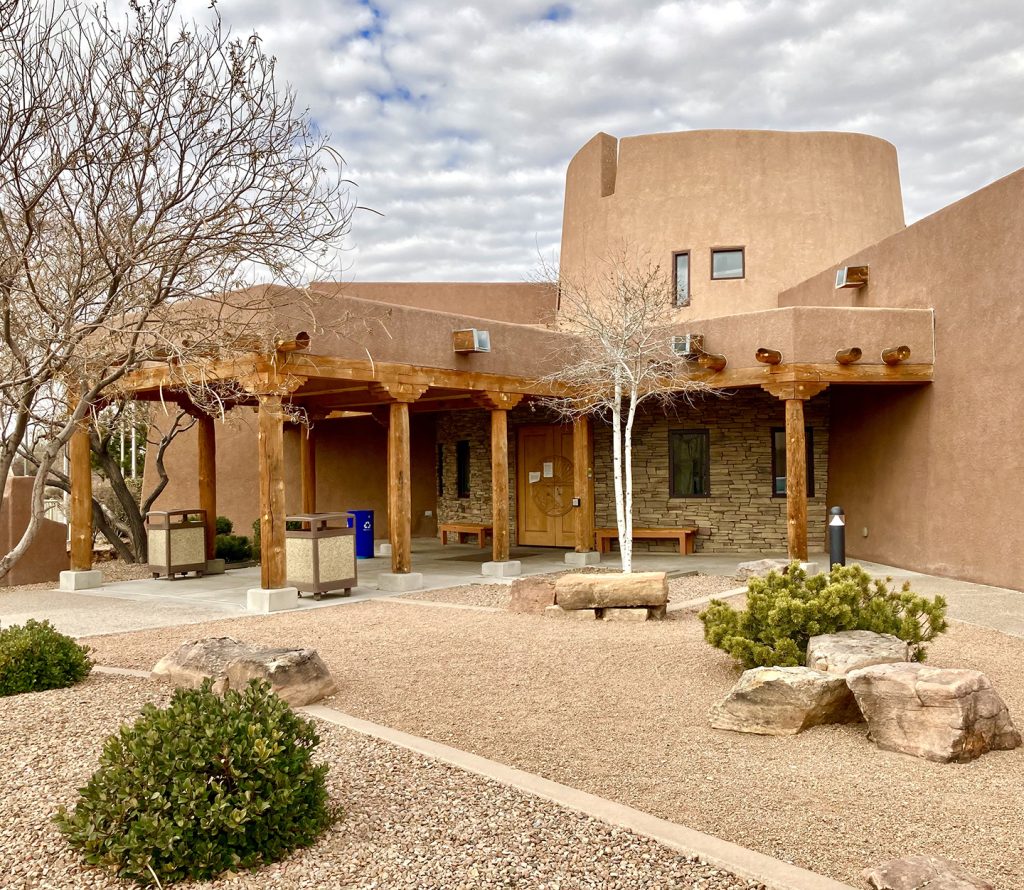 Whether for two hours or 2 days, a visit to the Indian Pueblo Cultural Center (IPCC) is a treat for your senses as you engage in the fulfillment of its mission, "to preserve and perpetuate the accomplishments and evolving history of the Pueblo people of New Mexico." This is your "Gateway to the 19 Pueblos of New Mexico."
Enter the courtyard and you will be captivated with the bold, larger-than-life murals featuring multiple aspects of Pueblo life. Explore them on your own or check the schedule for guided mural discovery tours. While in the courtyard, take advantage of the opportunity to visit with artists who work in various mediums presenting their traditional and modern works.
Each weekend, visitors are invited to the courtyard to experience a kaleidoscope of dance, dress, color, drums, singing and movement with dancers from one of the 19 Pueblos of New Mexico or other Tribal Nations. While many Pueblo dances are closed to the public, incredible dancers share their social dances and, at times, invite visitors to participate in circle dances.
In the museum, "We Are of This Place: The Pueblo Story," depicts the Pueblo people's resilience and traditions of honoring life in this land of sacred mountains and rivers. Here, Pueblo people share their history and culture which sustains this sense of place. Learn about water's importance through symbols on pottery and exhibits tracing the development of waffle gardens and other water-saving farming techniques. Films and headphones enhance your visit with additional choices of what and how to learn. While Covid may have altered a few tactile interactive features, be sure to explore museum sections such as "Grandma's" kitchen, the seasons, historical religious friction, boarding schools and much more. A newer exhibit features the impact of uranium mining on Laguna Pueblo's people and land. Resilience is ever present.
The Artists Circle Gallery currently hosts sculptures by Anthony Romero and Jemez artist Cliff Fragua and includes his second rendition of Po'Pay. His first Po'Pay represents New Mexico in National Statuary Hall in the U.S. Capitol. South Gallery recently opened Pivot, a fascinating skateboard exhibit presenting uniquely designed skateboards created by Native artists of all ages.
No visit to IPCC is complete without indulging in the culinary creations of Chef Ray Naranjo at the on-site restaurant, Indian Pueblo Kitchen. The menu offers small plates, sandwiches, New Mexico favorites, desserts and brunch items all day. Try Pueblo stew, elk chili or prime rib dip or for the vegetarian, order the blue corn enchiladas with three sisters (corn, beans, squash). The vibrant mix of colors, tastes and delicious smells will fill your stomach and please your palate. Then don't forget to take home some bakery items to enjoy later: scones, pueblo pies and cookies. The Indian Pueblo Store, like the museum and the restaurant, is worth a visit by itself to browse exquisite and every updated choices of jewelry, pottery, clothing, books, flutes, mugs, foods and so much more. Arrowheads, books, winged puppets and dreamcatchers are popular with kids. Need a gift? Can't decide? Gift certificates make much-appreciated gifts and give the recipient an opportunity to explore this local treasure trove.
Designed to present historically accurate Pueblo history, the Indigenous Wisdom Program equips K-12 educators with age-appropriate lesson plans, webinars, and downloadable curriculum. https://indianpueblo.org/category/indigenous-connections/ The IPCC's Library & Archives is the sole special collections research library preserving Pueblo people's history and culture. View the catalog online, call for research requests and enjoy the monthly blog's timely topics and view past blogs. https://indianpueblo.org/category/indigenous-connections/
The Resilience Garden on the north side of the IPCC parking lot, is a living exhibit where you can observe and participate in traditional Pueblo farming techniques, learn to cultivate heirloom seeds. The Seasons of Growth series offers monthly hands-on and virtual learning experiences led by IPCC Cultural Education staff and expert guests. Participants learn the history and how-to of agriculture, sustainability, heirloom crops, pollinators, and pre-contact foods.
Join other readers at the IPCC Pueblo Book Club monthly opportunities to discuss a book by a Native American author or a book about the Pueblo experience. Led by IPCC Cultural Educator, Jon Ghahate, who is often joined by a guest author, readers may currently join in person or by Zoom. Check online or email bookclub@indianpueblo.org for this year's books, discussion questions, dates and times. You can also view past discussions on line.
No matter how often you visit, you will find new exhibits, merchandise, foods and programs. The final panel in the museum notes that Pueblo people tend not to say goodbye, but "until we meet again." After one visit, you will certainly want to visit again. by Jeanne Elmhorst
Contact:
Call or check online for current hours for the Museum, Store and Restaurant as they
may shift with Covid guidelines.
505-843-7270
Indianpueblo.org
2401 12th Street NW
Albuquerque, NM 87104
Indian Pueblo Kitchen. (IndianPuebloKitchen.org)
The Indian Pueblo Store (IndianPuebloStore.com)